Please take note that the English version will be available soon
Multi-Graf a pour but de vous permettre d'avoir un site professionnel et économique, mais aussi de vous tenir informer sur les nouveautés du web, technologique, d'affaire et créatif.
Voici une nouvelle qui fera un très grand changement dans vos projets de site web et dans vos recherches.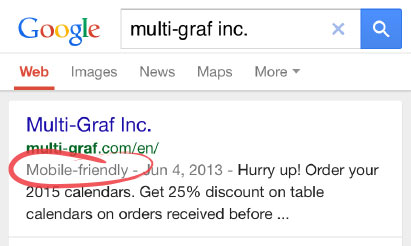 Google a modifié ses algorythmes de recherches, spécialement ceux des recherches mobiles. Les sites ayant reçu le tag "mobile-friendly" seront priorisés dans les recherches effectuées a partir d'appareils mobiles et cela dès le 21 avril 2015.
Cela affectera grandement le trafic que votre site reçoit car plus de 50% des recherches sont effectués sur mobiles. Donc, si votre site n'est pas "mobile-friendly", il perdra rapidement des visiteurs aux profits de ceux qui sont "mobile-friendly" ou qui le seront devenue.
La bonne nouvelle? Si vous effectuez les changements qui permettront a votre site d'obtenir la mention "mobile-friendly" votre site sera priorisé dès que Google aura fait une nouvelle visite sur votre site web.
La deuxième bonne nouvelle? Tous les sites de vite1site.ca et Multi-Graf sont "mobile-friendly".
La troisième bonne nouvelle? Un site sur vite1site.ca la solution rapide de Multi-Graf est très économique, vous n'aurez pas de difficulté a convaincre les décideurs de votre entreprise de prendre la bonne décision!