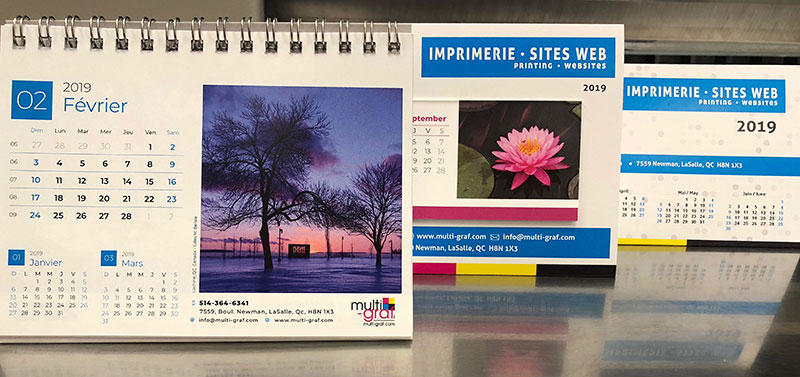 Order for your clients or family.
Take advantage of economic model for business and family. Put your own picture or uses the ones from our artist of the year.
Promotion – Order now and get a 25% discount on selected model until October 27, 2022.
TABLE CALENDARS*
---
25% discount until October 27, 2022
Choose among 3 different table calendars
Our « house » model, which we uses since we exist – Improve version!
Our DeLuxe model
Our economic model
MAGNET CALENDARS
---
Choose from 2 different sizes (3.25x8in. or  4x6in.)
Model on cardstock with a piece of magnet.
3 PANELS CALENDARS
---
Ideal for planifications. 3 full months are visible at anytime.
12 PAGES CALENDARS WITH PICTURES
---
 2 options:
Regular Model on 28lb smooth paper with a white border
DeLuxe Model on 12pt cardstock without white border
1 PAGE CALENDARS
---
Several sizes are available. From 8.5×11 to 24×36, you will find what you need. Available in cardstock or synthetic paper.
New Size! 13x40in!